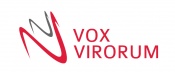 Musical Director: Jeremy Nabors
Description: Vox is a community men's ensemble. The group focuses on traditional men's glee club repertoire with a dual emphasis on musical excellence and camaraderie.
Rehearsal Information
Schedule: Tuesday, 7:00 – 8:30 PM, September to May
Rehearsal Location:
First Presbyterian Church (Durham)
305 East Main Street
Durham, North Carolina 27701
Location is handicapped accessible
The church is located at the corner of Main Street and Roxboro Road in downtown Durham. Parking is available at the back of the church, off Roxboro Road.
Details
Repertoire: A Cappella, Barbershop/4-part Harmony, Classical Secular, Contemporary Classical, Early Music, Folk/Cultural, Hymns/Anthems, Show Music/Pops, Spirituals
Number of Singers: 30
Dues and other expenses: $30 per semester (voluntary)
Contact Information
Contact Person: Jeremy Nabors
Contact Email: naborsje@gmail.com
Contact Phone: (919)360-5242
Disclaimer: The organization described on this page is solely responsible for providing the information and updating it as needed. Please notify us if you observe mistakes or misstatements of any kind; we regret any inconvenience due to errors.