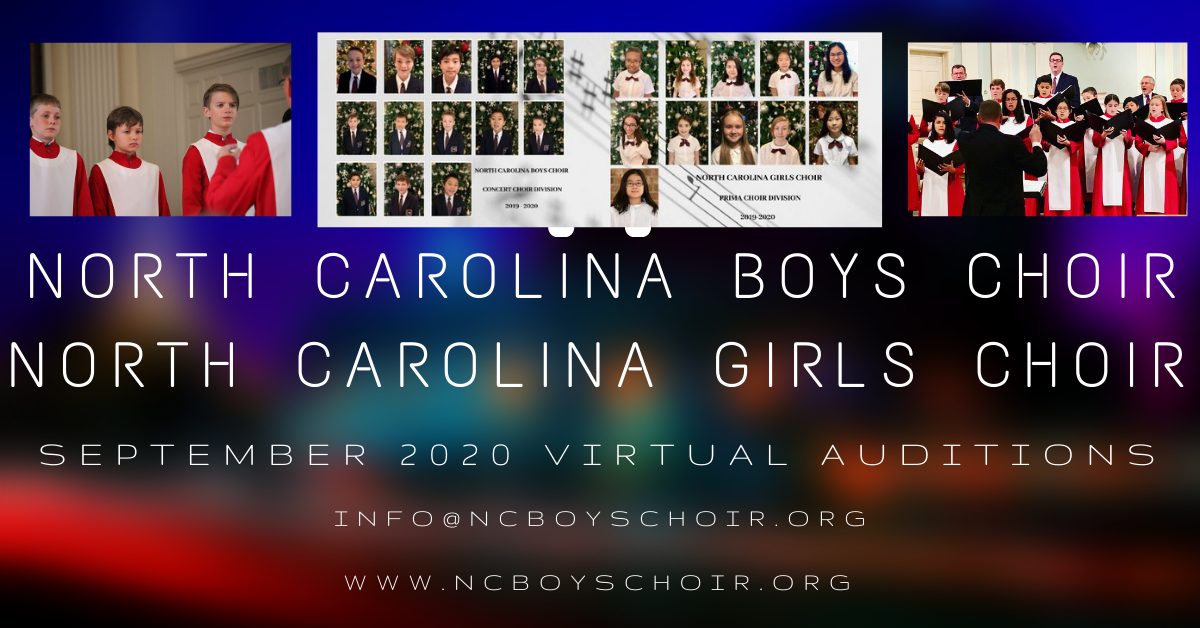 North Carolina Boys Choir and Girls Choir Virtual Auditions
We are happy to announce that we are rolling out a hybrid live and online choral Fall 2020 semester starting September 14. Due to COVID-19 pandemic, we modified the structure of our choral semester. At present, our semester is likely to feature short optional live rehearsals in Chapel Hill (outside, in masks and socially distanced), virtual choir rehearsals and individual online voice lessons. Should the public health situation in North Carolina change, we plan to review and modify this plan accordingly.
NCBC and NCGC is holding and accepting requests for virtual auditions in the month of September 2020. We may also have some limited slots available for live auditions on Monday evenings subject to specific request.
We have openings for our advanced choirs:
Training (Beginner Boys and Girls)
Prima (Advanced Girls Only)
Concert (Advanced Boys Only)
To audition for one of our choirs or ask any questions, please email us at info@ncboyschoir.org
Please, include the following information in your email:
Your Child's First Name
Your Child's Grade Level
Your Child's Gender
Your First and Last Name
Your Email Address
Preferred Auditions Method (Virtual Audition via Zoom, Live or Audio Submission via Email)
We will get back to your shortly to arrange audition. We look forward to welcoming your child to one of our choirs!