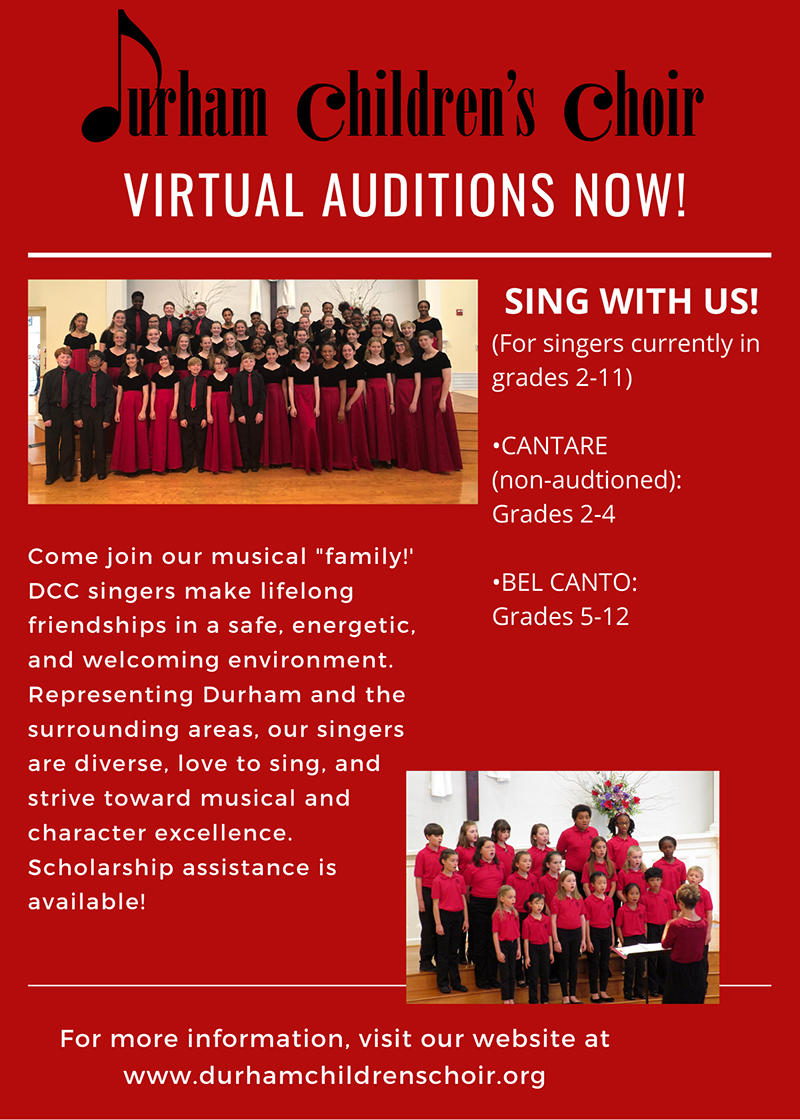 Durham Children's Choir Virtual Auditions
The Durham Children's Choir is holding virtual auditions for all singers in grades 2-11. For grades 2-4, you can register online to join Cantare, the training choir. For grades 5-12, you can register online and submit a video to audition for the 2020-21 season.
We are thrilled to open registration for our 2020/2021 Season!
Although the pandemic is preventing us from being together physically, the music and fun will go on!  We know that the opportunity for community and creativity that comes from being in a choir like DCC is important for children's social and emotional well-being.  We have been in communications with choral programs across the country all summer, listening to experts about the science behind the pandemic, sharing resources, and brainstorming on the best ways to provide flexible programming in a virtual world.
So what will our 2020/2021 Season look like?
We will begin our weekly rehearsals, via Zoom, on Monday, September 14th.
Cantare will meet from 5:00 – 5:30pm
Bel Canto will meet from 5:00 – 6:00pm
(Zoom links will be sent out closer to the start of rehearsals to those who are registered.)
For Cantare, our preparatory choir for 2nd – 4th graders, plans include:
Rehearsals – musical activities and lessons about choral music, good vocal singing habits, music reading activities and basic performing skills.
Small Group Voice Lessons – singers will be able to sign up for these optional small groups, to be held following rehearsal each week.
For Bel Canto, our performance choir for 5th – 12th graders, plans include:
Rehearsals – enhanced lessons and fabulous music with different techniques to keep these sessions fun and engaging.  Lessons will include music theory and sight singing, to help build musicianship skills.
One-on-One Sessions – singers will be able to sign up for these optional sessions, which will be scheduled outside of rehearsal time.
Exciting Collaborations – see information on virtual choirs below for more details.
We also hope to have some social events for our singers and opportunities for our families to gather and share, which will help us through these times until we can be together, in person, once again.
Virtual Choir Projects
We are excited to announce the opportunity for our Bel Canto singers to participate in two virtual choir projects this fall.  The first virtual choir project is with Duke Chapel, to provide music for their Christmas Eve Services.  The second is a collaborative project with other children's choirs in our state. The Durham Children's Choir is excited to be organizing and leading this effort with the Charlotte Children's Choir and the Raleigh Boys Choir.
Will we be virtual all year?
None of us know what the future holds.  As time goes on, as we watch the numbers go up and down, and as further research comes to light, we will be prepared to pivot and shift as we can.  Our dream is to rehearse in person once again and to be able to share our music with the community through live performance, but we will only do so if it is safe for our children and families.  We will continue to stay in tune with all of this, and will keep you informed along the way if we are considering changes to our plans.
If you have any questions, please contact Linda Walters at linda.walters@durhamchildrenschoir.org.