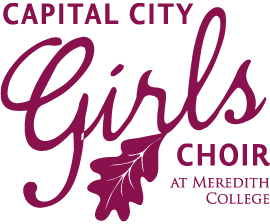 Capital City Girls Choir Virtual Auditions
The Capital City Girls Choir is welcoming new singers for its winter trimester, beginning in February. Open to singers age 9 and up!
CCGC has developed a plan that will prioritize the safety of all our families while still fulfilling our mission to offer high quality vocal training, music education, social connection, and community outreach opportunities to all our students. Due to the pandemic and potential elevated risks of spreading germs through the act of singing, it will take extra time for it to be safe for choirs to meet in person. The great news is that regardless of the medium for teaching, Capital City Girls Choir will continue to provide valuable music training, a unique creative outlet, and much-needed opportunities for connection.
Through engaging, fun, and challenging activities, CCGC is pleased to share that our online rehearsals will offer the following:
Voice Building – Members will develop and improve techniques in the areas of breathing, alignment, production, tone, resonance, flexibility, and range
Music Literacy – Members will learn and understand music theory, ear training, and music reading skills
Vocal Repertoire – Using skills in vocal technique and music reading, members will study diverse choral repertoire spanning a variety of genres and time periods
Guest Clinicians – Members will meet and learn from guest clinicians on a variety of music-related topics
Performance Projects – Members wills create video-based performances as well as in-person performances, when safe
Choral Connection – Members will enjoy a time of sharing, virtual games, and fun challenges with their choir friends
Community Outreach – Members will have opportunities to reach out to the community in significant and safe ways
Virtual rehearsal/meeting times for the CCGC choirs:
Chorus – Monday evenings: 4:45-5:30pm
Chorale – Monday evenings: 5:30-6:45pm
Cantabile – Monday evenings: 6:00-7:15pm