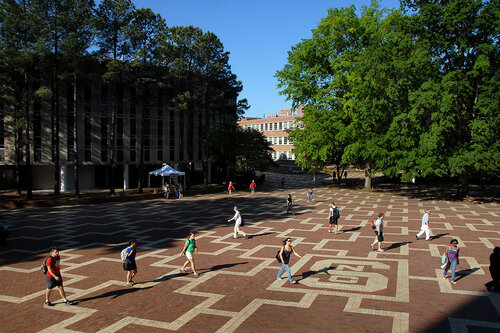 NC State University Orchestras and Choirs with Concert Singers of Cary: Brickyard Broadcast Live Premiere Event
Brickyard Broadcast is a spatialized work for hundreds of musicians that will have its world premiere in a Virtual Reality (VR) environment. It uses technology and interactivity to reinterpret the NC State Brickyard, the university's beloved and iconic gathering area outside of D.H. Hill Jr. Library, as a virtual space in which the musical performance will unfold.
Join us on Nov 12, 2020, 6pm ET. Following its premiere, it will remain online, accessible to all, for some period of time. On premiere night, join NC State faculty Peter Askim, director of orchestral studies, and Nathan Leaf, director of choral activities and artistic director for Concert Singers of Cary, and composer Lisa Bielawa for a live, online panel discussion.
Following your experience of the performance, you're invited to join Askim, Leaf and Bielawa again for a question and answer session. Visit music.arts.ncsu.edu/brickyard-broadcast for more information. Links to access the live panel discussion/Q&A on Twitch and to enter the VR Brickyard Broadcast performance will be available there on premiere night.
Hundreds of audio recordings from musicians and singers will be integrated into a 20-minute work that viewers can experience either from start to finish in a curated sound experience or in a self-guided choose-your-own-adventure modular way. Nine separate musical groups will animate the various areas of the virtual Brickyard, creating an immersive sound experience for anyone who visits the site.
The texts that the choirs are singing are taken from the writings of various thinkers from a broad historical range who mused on the phenomenon of people gathering in common space, and the indomitability of song. Among others, they include Gertrude Stein, H.G. Wells, Frank Lloyd Wright, Charles Ives, and Walt Whitman.
You'll find more info here: