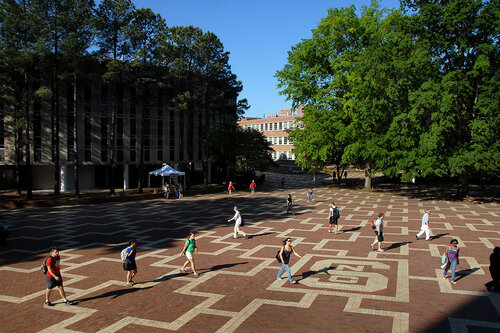 Brickyard Broadcast
Brickyard Broadcast, a spatialized 20-minute work for hundreds of musicians/singers, will have its world premiere in a Virtual Reality environment designed expressly by the digital media teams at the NC State University Libraries on Nov 12, 2020, 6pm ET, and Nov 13 at 2pm ET. Following its premiere, it will remain online, accessible to all. Details on how to access the premiere will be available at music.arts.ncsu.edu in October.
We'll reinterpret the NC State Brickyard, the university's beloved gathering area, as a virtual space in which the musical action will unfold, with the integration of hundreds of audio recordings (created by individual musicians playing and singing in isolation under the guidance of the composer and several artistic directors) and avatars designed by the musicians themselves.
Patrons can experience it either from start to finish in a curated sound experience or in a self-guided choose-your-own-adventure modular way.
Featuring:
NC State University orchestras and choirs
Raleigh Civic Orchestra
Concert Singers of Cary
Lisa Bielawa, Composer / Producer (NYC)
You'll find more info here: