Tar River Children's Chorus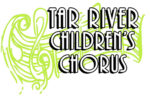 Chorus Name:
Tar River Children's Chorus
Chorus Description:
The award-winning TRCC welcomes young people from grades 3-12 with unchanged (Treble ) voices, a good musical ear, good tone and range. Music reading skills are needed in the 2 upper groups. We all sing some songs together in every concert, but are divided for most rehearsals into 3 groupings: Cantare (grades 3-6), Concert Chorus (grades 7-12) and Ensemble (grades 9-12). Rehearsals are on Thursdays during the school year. We sing locally and perform at Choral Festivals on the East Coast. Auditions are during the summer. We have been thriving for 25 years as part of the Tar River Orchestra and Chorus.