Duke Evensong Singers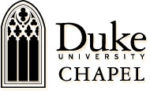 Chorus Name:
Duke Evensong Singers
Chorus Description:
Choral Evensong represents one of the finest traditions of singing sacred choral music. The Duke Evensong Singers prepare 7-10 new pieces of music each week for this service and work in a fast-paced rehearsal environment. The Sunday afternoon service itself lasts about 45 minutes and is mostly sung by the choir. Music is drawn primarily from the great body of music written for English cathedrals and collegiate chapels.