Fearrington Village Singers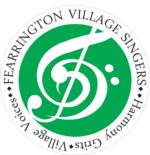 Chorus Name:
Fearrington Village Singers
Chorus Description:
The Fearrington Village Singers is a joint chorus made up of women and men living in Fearrington Village and Galloway Ridge, located between Chapel Hill and Pittsboro, NC. In addition to the joint chorus, the women members sing as the Village Voices and the men members sing as the Harmony Grits. No auditions are required for membership. While the singers take their music seriously, they also enjoy the conviviality of music making. For more information, contact fvsings@gmail.com.